The 2018 EUROGEO Annual Meeting & Conference will be held in Cologne, Germany on 15-17 March 2018 (More...)
European Journal of Geography
The publication of the European Journal of Geography (EJG) is based on the European Association of Geographers' goal to make European Geography a worldwide reference and standard. Thus, the scope of the EJG is to publish original and innovative papers that will substantially improve, in a theoretical, conceptual or empirical way the quality of research, learning, teaching and applying geography, as well as in promoting the significance of geography as a discipline. Submissions are encouraged to have a European dimension.
The European Journal of Geography

is a p
eer-re
viewed open access jo
urnal. A
rticles and book reviews are
published under free licenses, and anyone is allowed to read, download, copy, and distribute them.
Contributions to the EJG are welcomed. They should conform to the

Instructions for Authors

and submitted

electronically

, while books for review should be sent to the editor. The content of this journal does not necessarily represent the views or policies of EUROGEO except where explicitly identified as such.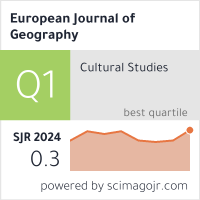 "A fine journal with excellent and widely cited papers on European geography"
The SCOPUS Evaluation Team
© EUROGEO, 2010
The European Journal of Geography is published by EUROGEO - the European Association of Geographers (
www.eurogeography.eu
).
Current Issue
Volume 9, No 1, 2018